.The Looper is an innovative painting aid that consists of a rotating surface. Individual circular patterns can be created with a pen. There are no limits to creativity.
Short description of the invention
The Looper is a stable cube placed on any surface with a rotating turntable on which a sheet of paper is fixed.

By pressing an on/off switch, the turntable is motor-driven into rotation, whereby both left and right rotation is possible and different speed levels can be set.

When the tip of a felt-tip pen is placed on the paper, this creates - depending on the movement of the pen on the rotating base - circles and patterns in a beautiful play of colours within a very short time, which can be intensified by increasing the pressure on the paper according to taste. By using many colours and pen tips of different widths, the result can be varied more and more and offers a high surprise and entertainment value.

Advantages of the invention
Benefits
The prototype was made from a dismantled computer fan (cube). A square of paper (approx. 3x3cm) is attached to its rotating surface with double-sided adhesive tape. The fan is switched on by means of a 9-volt battery with two cables attached to its poles, and the paper rotates in a rapid rotary motion.

Now the tip of a felt-tip pen is placed on the paper and within a very short time (less than one second in the middle) a circle is created that is larger the further the pen is placed on the edge of the paper.

Target group & Application
For children and adults, for diversion or also for the purpose of a conscious artistic activity - the Looper addresses many target groups and offers an infinite number of variation possibilities.
The short video demonstrates how the prototype works and shows how the Looper can be used to create great colourful pictures quickly and easily.

Property right
Utility Model
Type of protection: GER utility model
Registration number: 20 2021 000465
Date of registration: 08.02.2021

List of reference signs:
A Upper part
1 drawer or flap

B Lower part
2 Turntable/disc
3 Recess/inlet
4 Lever (on/off + direction)
5 Lugs/eyelets for fastening
6 Turning wheel (speed)
7 Air holes
8 Battery compartment (in bottom)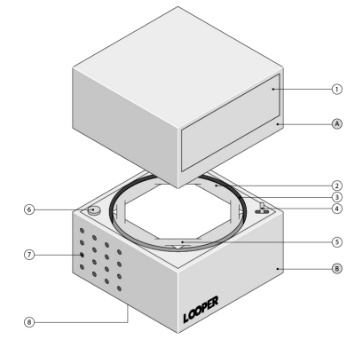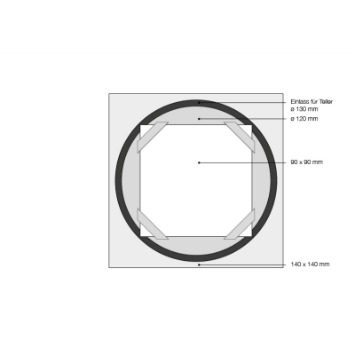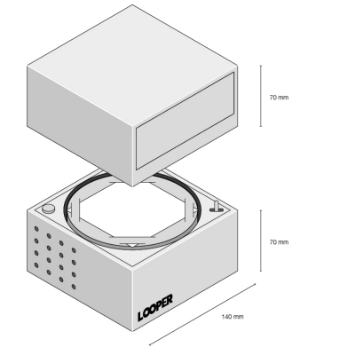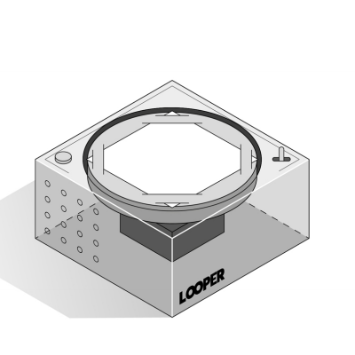 ARE THERE ANY OPEN QUESTIONS?
DO YOU REQUIRE FURTHER INFORMATION?
We would be happy to provide you additional information material or clarify open questions with the inventor for you. Simply contact us and we will be happy to support you.

Contact us
JMW INNOVATION GMBH
jmw Innovation GmbH has been successfully implementing and marketing ideas at two locations (Salzburg/ Berlin) for over 20 years. Thanks to our many years of networking, our passion for new ideas and our experienced employees, we are THE first point of contact for new ideas in the German-speaking world.

Website
www.erfinderberatung.com
© 2022 All rights reserved.